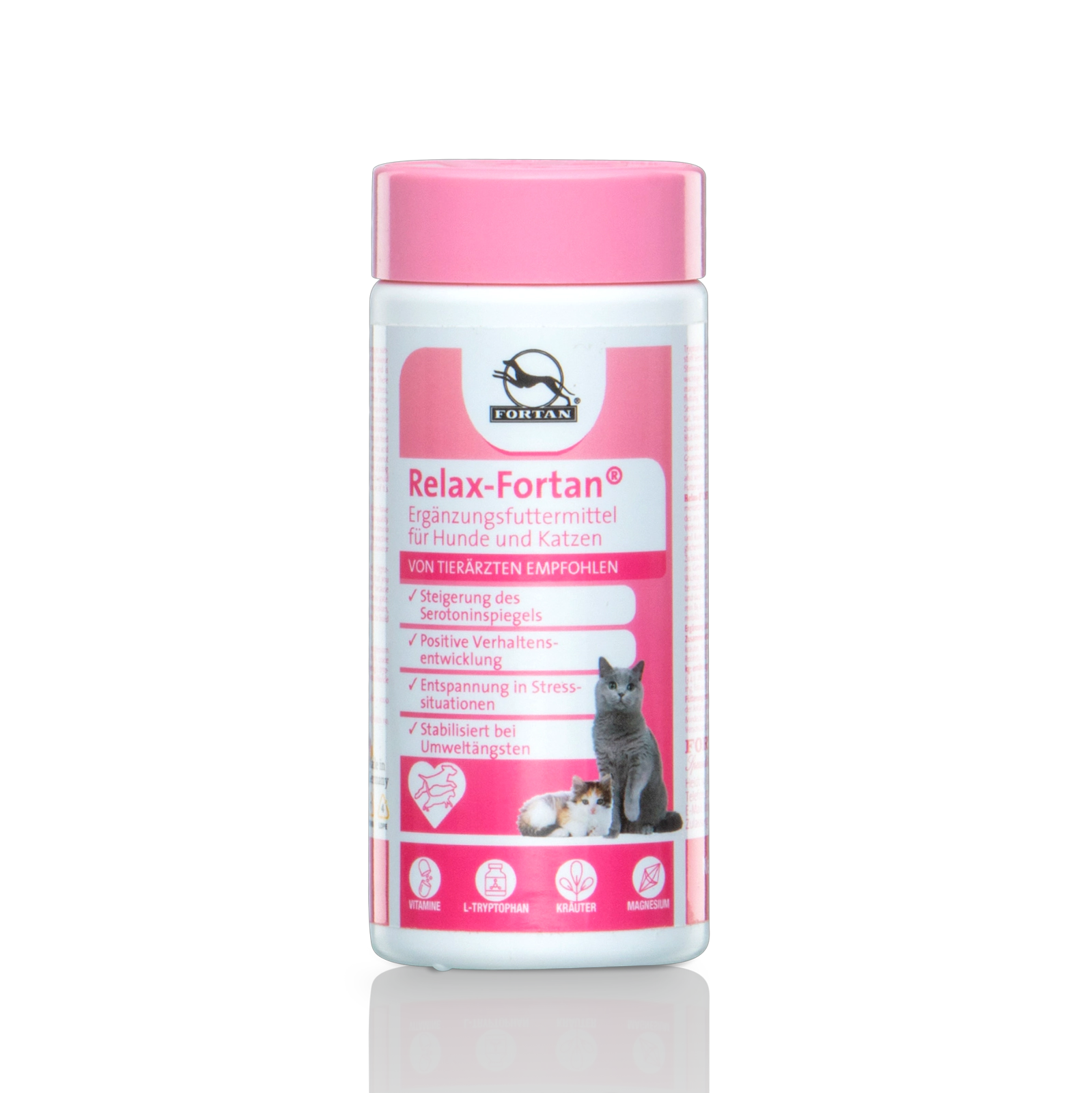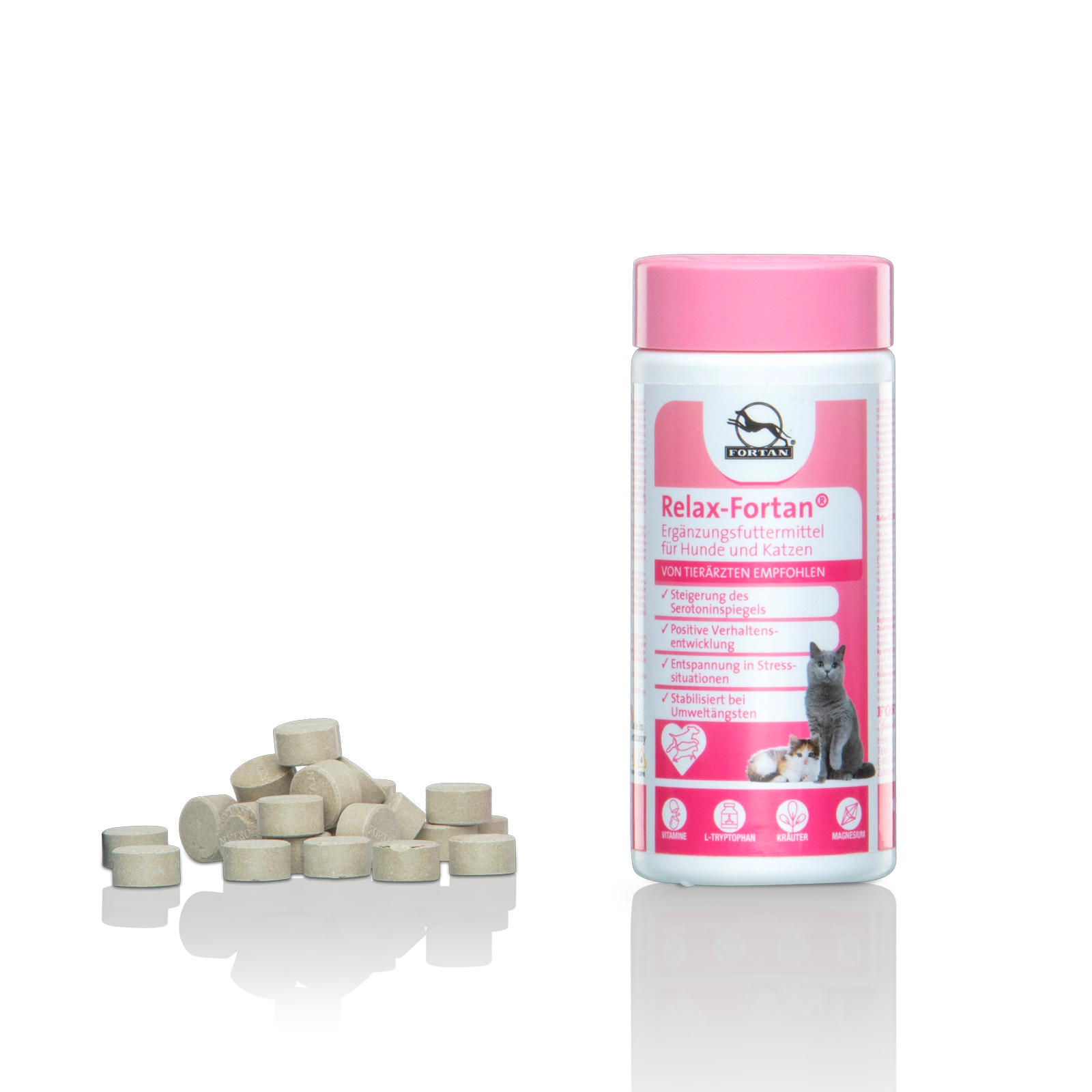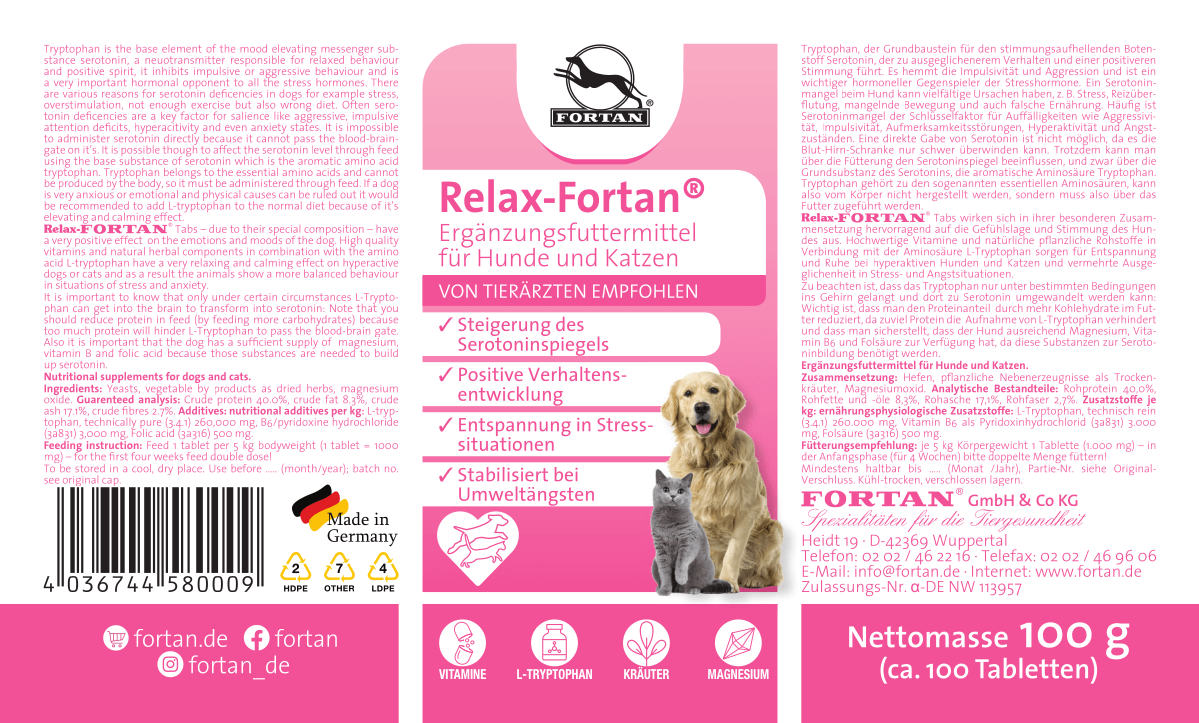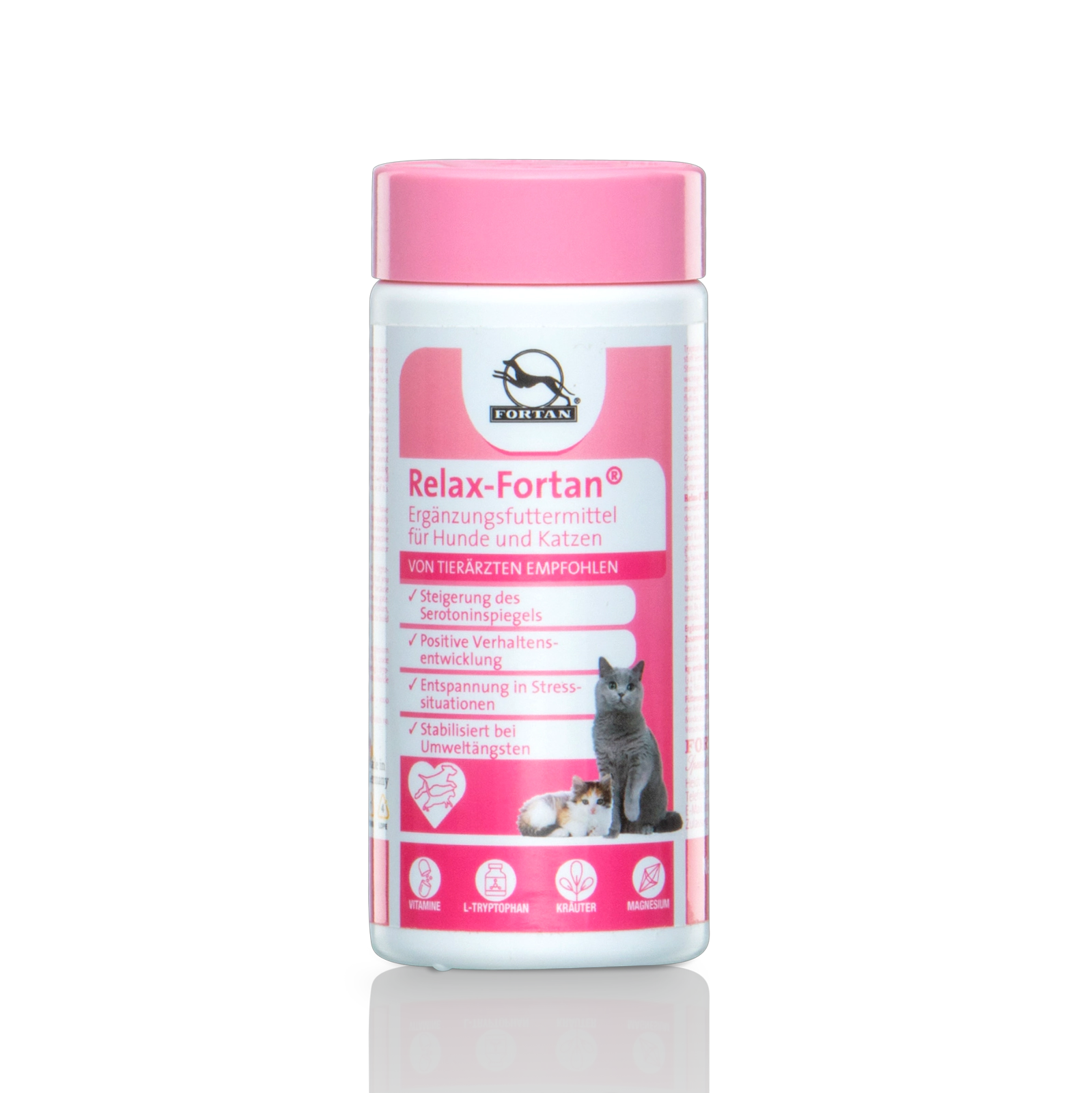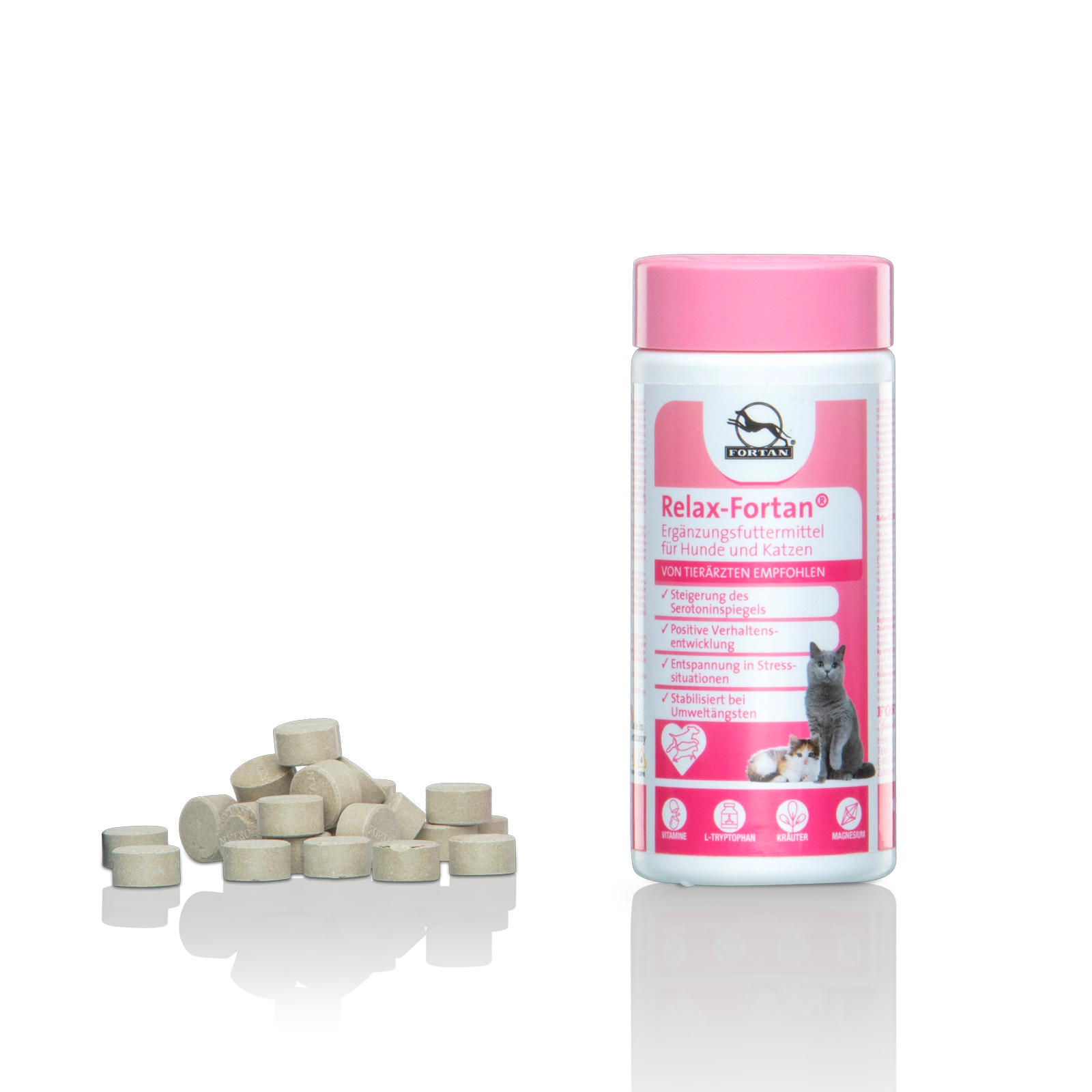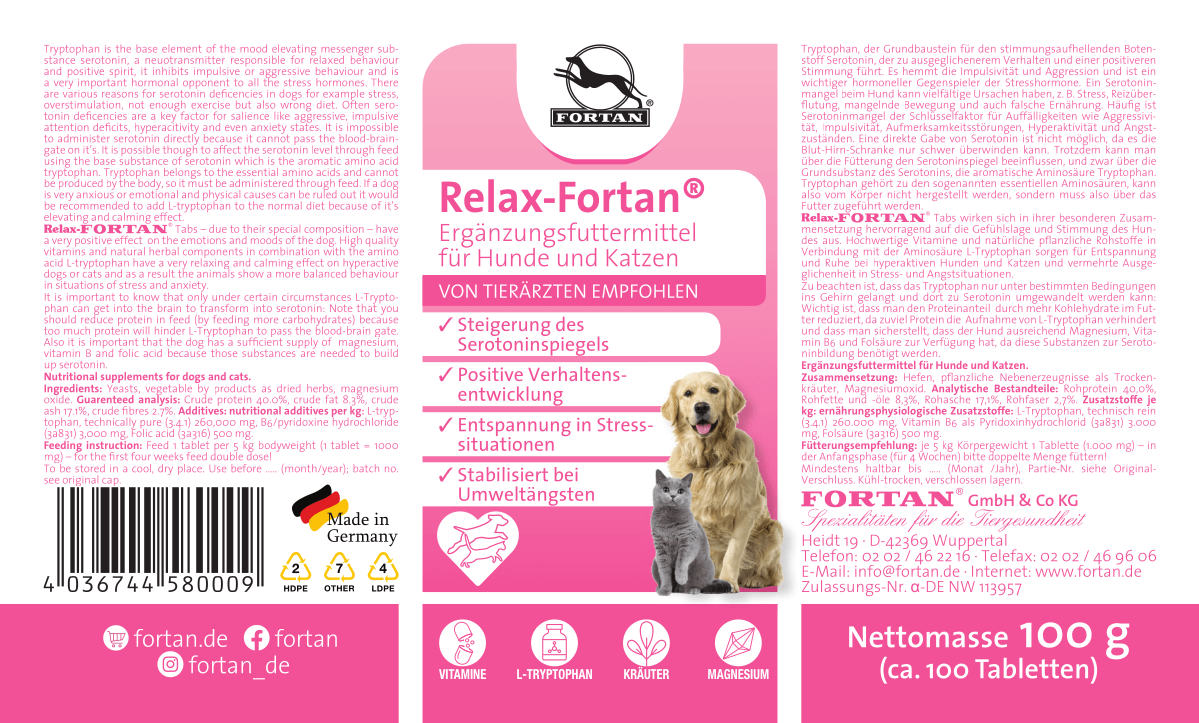 €16.50*
Content:
0.1 Kilogramm
(€165.00* / 1 Kilogramm)
Available, delivery time: 1-3 days
Our benefits
Increases serotonin levels
Positive behavioural development
Relaxation in stressful situations
Stabilises environmental anxiety
Product information "Relax-Fortan®"
Relax-Fortan for dogs and cats - To increase serotonin levels
Tryptophan, the basic building block for the mood-lifting messenger substance serotonin, which leads to more balanced behaviour and a more positive mood. It inhibits impulsivity and aggression and is an important hormonal counterpart of the stress hormones.
A serotonin deficiency in dogs can have many causes, e.g. stress, overstimulation, lack of exercise and also poor nutrition.
Serotonin deficiency is often the key factor for abnormalities such as aggression, impulsivity, attention deficit disorder, hyperactivity and anxiety.
Direct administration of serotonin is not possible, as it has difficulty crossing the blood-brain barrier.
Nevertheless, it is possible to influence the serotonin level by feeding the basic substance of serotonin, the aromatic amino acid tryptophan.
Tryptophan belongs to the so-called essential amino acids, i.e. it cannot be produced by the body, but must be supplied through the feed.
Relax-Fortan Tabs have an excellent effect on the emotional state and mood of the dog or cat due to their special composition.
High-quality vitamins and natural plant raw materials in combination with the amino acid L-tryptophan ensure relaxation and calmness in hyperactive dogs and cats, and increased balance in stress and anxiety situations.
It should be noted that tryptophan only reaches the brain under certain conditions and can be converted into serotonin there: It is important to reduce the protein content by adding more carbohydrates to the food, as too much protein prevents the absorption of L-tryptophan, and to ensure that the dog has sufficient magnesium, vitamin B6 and folic acid available, as these substances are needed for serotonin formation.
Supplementary feed for dogs and cats
Ingredients:
Yeasts, vegetable by-products as dried herbs, magnesium oxide

Guaranteed analysis:
Crude protein 40.0 %, crude fats and oils 8.3 %, crude ash 17.1%, crude fibre 2.7 %
Nutritional additives per kg:
L-tryptophan, technically pure (3.4.1) 260,000 mg, vitamin B6 / pyridoxine hydrochloride (3a831) 3,000 mg, folic acid (3a316) 500 mg
Feeding recommendation:
| | |
| --- | --- |
| Bodyweight | Quantity per day |
| up to 5 kg | 1 tablet |
| up to 10 kg | 2 tablets |
| up to 15 kg | 3 tablets |
| up to 20 kg | 4 tablets |
| up to 30 kg | 6 tablets |
| up to 40 kg | 8 tablets |
| 40 kg + | + 1 tablet per 5 kg |
Dosage content: 1 tablet = 1,000 mg
Notice:
In the initial phase (for 4 weeks) please feed double the amount!